Re-New your Logan City BMX Membership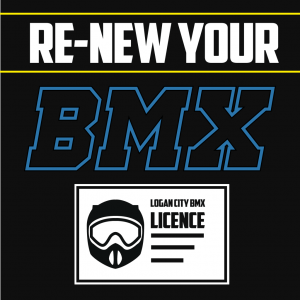 TO RENEW your BMXA & Logan City BMX Membership and view prices – CLICK HERE
If above link is not working, copy and past this into your browser:
https://osm-bmxau.omnisportsmanagement.com/Memberships/(S(gsxjptekm1inilqq5jcgd50t))/OSMMbr_Resplogin.aspx
---
Open 12 months Membership 
An open membership allows you to ride at any club in Australia, including club carnivals and events. Riders must be 8 years of age or older.
Sprocket 12 month Membership 
Sprocket Rocket membership is for any rider under the age of 8. The Sprocket Rocket program is a participation-based program, taking the focus from competition to skill-based learning programs. This allows children under the age of 8 the opportunity to tune their BMX racing skills in a fun non-competitive environment. Each new Sprocket Member will receive a Sprocket Rocket Member Bag.
NEW TO BMX 4 Month Licence
This licence allows any new member to try the sport of BMX for 4 months. It is an open licence to try the sport at any club, but does not allow entry into State and National Titles. Following the 4 month period members can upgrade to an Open or Sprocket membership and receive a $20 discount.
BMX Mini Wheelers 12 months Membership
This membership is for Riders that are still on a Balance Bike.
Volunteer + LCBMX Membership – FREE
All volunteers (including club/ state officials) can become members of BMX Australia and fall under our insurance free of charge. The licence does not allow the member to race.
Non Competitive (Officials & Coaches) – FREE
Non Competitive Membership is aimed at any members who do not wish to race but still wish to be covered by BMX Australia, for example coaches, officials etc. This covers coaches and officials, within their coach/official accreditation remit, at any club in Australia and provides public liability, professional indemnity and personal accident cover.
MTBA/CA Added Value Membership
MTBA/CA members submit a completed Add Value Membership Form direct to BMXA together with a photocopy of their current MTBA/CA license (must have least 3 months validity remaining on their primary membership) and pay $36 to BMXA. Download the MTB Added Value Membership Form – submit the form + Club Membership Form + fees to our Membership Coordinator at the above details.
Club Transfer – FREE to Transfer but you will need to pay $19 for Logan City BMX Membership. ALL Transfers will be approved at a Club Committee Meeting
At any stage a rider can transfer to a different club within Australia for free. Please note: this needs to be approved by the Committee at a Committee Meeting. Download the Club Transfer Form and submit the form + Club Membership Form + fees to our Membership Coordinator so your transfer can be approved.
Logan City BMX Membership ONLY – $20
Parent wanting to Join the Club
Upgrade – 4 Month Licence to Sprocket 
Upgrade – 4 Month Licence to Open 
Upgrade – Mini Wheeler Licence to Sprocket